This spring Texas has seen gas prices rise at the pump and kWh prices rise on energy bills. The talk has been "energy markets are going to go up!" Is that so? Maybe. But maybe not.
The chart below shows the price changes of the three commodities oil, natural gas (NG) and North Texas electricity. From the price correlations that seem apparent, one might assume that North Texas fixed electricity (orange line) and oil prices (gray line) are related. Also, that North Texas spot electricity (blue line) and NG prices (yellow line) are related. The latter is true. The former not so much.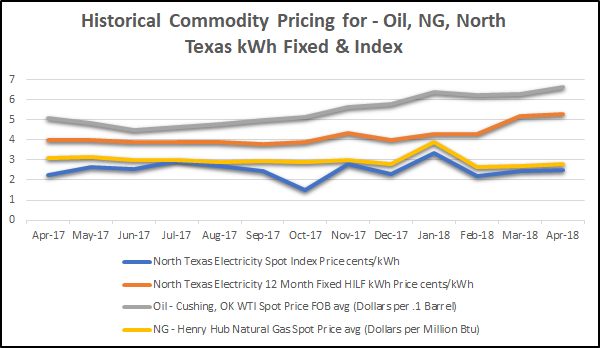 The majority of Texas' electricity is generated by NG fired power plants which makes NG spot prices somewhat indicative of spot electricity prices here in North Texas. But oil prices depend on international supply and demand and on geopolitical factors while North Texas fixed electricity prices largely depend on the supply and demand of local Texas power plants. Both oil and fixed electricity are influenced by market fear and opportunism. But the correlation is otherwise coincidental.
The real reason fixed electricity prices are higher this year in Texas is that three outdated power plants were recently shut down and local Texas generation supplies are currently short for fixing an electricity rate through the summer of 2018.
Are electricity prices going to go up? Probably yes until it is determined how hot 2018's summer will be. But thereafter, higher prices are not certain. Have you got an electricity plan expiring before the summer? It may be a good time to talk to an energy professional about fixing a shorter plan or trying a plan based on NG or the spot index of electricity.
Are the energy markets of NG and oil going to go up? What is important to recognize is that they are two separate markets. NG doesn't show much movement aside from weather factors, and the lower 48 states still have at least a 100 year supply. Consequently, we may not see much other NG movement anytime soon. But regarding the volatile, geopolitical commodity of oil barrels; I'll defer to Warren Buffet who said: "We haven't the faintest idea what the long-term price of oil will be."